Molek Diffstainer you automatically stain your diffsmears while you continue with other tasks. Load the holder with up to 25 smears and press start. Staining is now done according the to program choosen. Three different programs are available. Each program is adjustable to optimize the result. Contains six containers for solutions. The solutions are independent of the unit. After the staining is finished, a signal beeps and a fan starts to dry the slides.
The stainer is very compact and therfore easy to find a place for.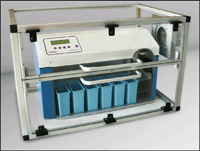 Molek Diffstainer fume extraction desk hood is used for vacuuming less hazardous pollutants during staining. The fume extraction desk hood is suitable for connection to a laboratory exhaust system or a window opening with standard exhaust hose of 10 cm diameter.
Can easily be added to existing systems.
Technical Specifications:
Power supply: 15VDC, via poeweradaptor
Power consumption: 18W
Dimensions: 49 x 16 x 30 (h x w x d) cm
Weight: 6 kg (without solutions)
Working environment: +10 – +40ºC (non-condensing)